For those who may not be keeping up with Non-NG stuff, The Foamy Podcast, "Squirrels & Robots" is still going on with Episode 78 being posted yesterday (as of this post).
It's on YT, Spotify, Apple Podcast Google and the usual places.
It's a zero-income thing for me, but it's fun to do.
(Sponsors have been kinda sketch for my tastes, so I generally don't bother with them. Having Foamy push some energy drink on people doesn't "feel" right. Pilz-E maybe... but then, sponsors don't want a hyperactive squirrel running amok because he drank one of their beverages. So picky!)
So if you're supporting on Patreon, THANK YOU! (If not, that's fine too. Spreading the word that Foamy is still around helps more than you'd think. So Thank you as well for that) :)
(Obligatory links to digital comics and shirts and all that fun stuff below the pic for those who never read vod descriptions... which I don't do either for some reason.)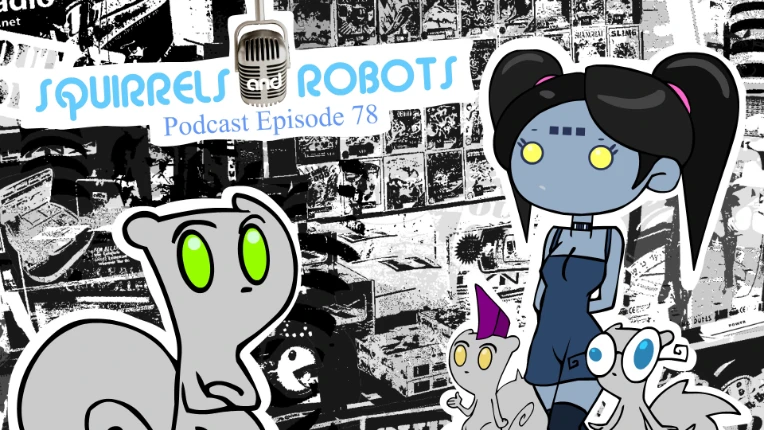 Help Out if ya can (I'm literally a 1 person here) :
PATREON: https://www.patreon.com/jimathers
PayPal : https://www.paypal.me/illwillpress
or
SUPPORT FOR FREE on Twitch through Amazon Prime/Twitch Prime:
https://twitch.amazon.com/prime (Follow the instructions and sub at: https://www.twitch.tv/jimathers  
Toss a Follow:
Youtube : https://www.youtube.com/jimathers
Twitter : https://twitter.com/jimathers
Facebook : https://www.facebook.com/illwillpress
Instagram : https://www.instagram.com/illwillpress/
Twitch : https://www.twitch.tv/jimathers
Newgrounds : http://illwillpress.newgrounds.com/
Discord : https://discordapp.com/invite/eKN5SxY
MATERIAL SUPPORT:
iLL WiLL PrEss Shop: http://illwillpress.com/
Design By Humans Shop: http://www.designbyhumans.com/shop/illwillpress/new/
Amazon Foamy Shirts! https://amzn.to/2uNerQB
Amazon Foamy Books! https://amzn.to/2N1IYAQ
Digital Comics: https://gumroad.com/illwillpress
Music : https://foamythesquirrel.bandcamp.com/
Artwork on Etsy : https://www.etsy.com/shop/illwillpress